---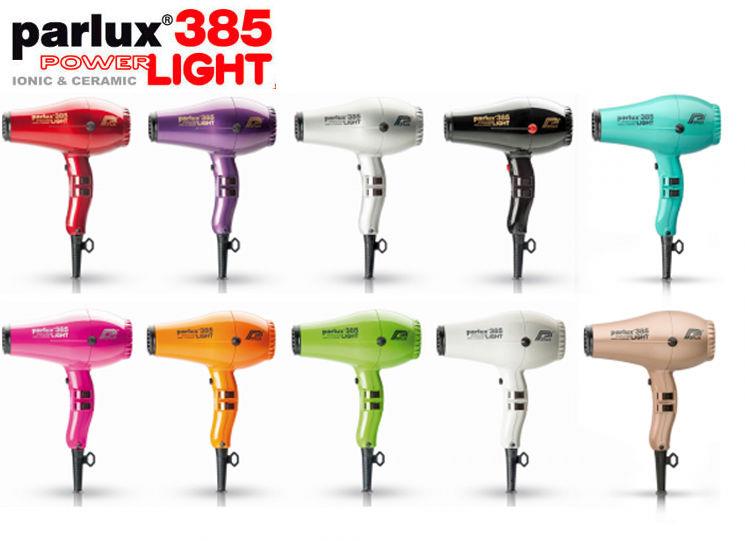 Parlux 385 - Very Powerful, Very Light
DURABILITY and POWER
The Parlux 385 PowerLight hairdryer has the new K-LAMINATION motor by Ciaramella, which is more durable and powerful.
LIGHTNESS
By reducing the weight of all the components an exceptionally light hairdryer was created.
IONIC & CERAMIC
It has the IONIC & CERAMIC device, which is essential for healthy, static-free hair.
ESTABLISHED FEATURES
It has the main features of low noise (with an in-built silencer), balance and manageability of established Parlux hairdryers. Like other models, the Parlux 385 PowerLight hairdryer is the ideal size for hairdressers - 18.5 cm.
ECO-FRIENDLY
The new hairdryer and its packaging are made with recyclable materials.
LOWER CONSUMPTION
The new Parlux 385 PowerLight hairdryer is so incredibly powerful that hair can be dried and set in a very short time, reducing electricity consumption.
Specifications
Ionic & Ceramic System
Output: 2150 Watts
Air flow: 79 Cubic meters/hours
Motor: K-LAMINATION - Watt 135 18mm brushes - life 2200 hours
Ozone Friendly - no harmful emissions
Made In Italy
Available in Aquamarine, Pink, Orange, Gold, Purple, Silver.
Warranty
1 Year